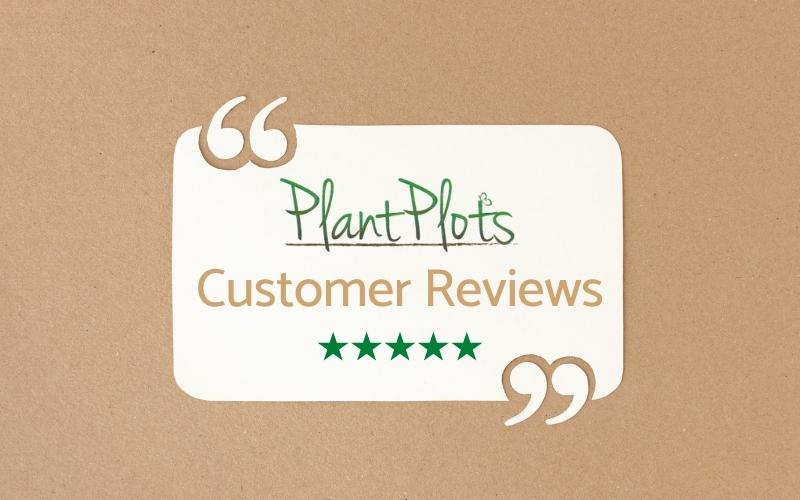 Customer Reviews
We really do want to make gardening easier for everyone!
Why not give us a call and see how we can help you.
All these lovely people have all used our services and this is what they think
Working with Rachel was great, she put lots of thought into what i liked and how i wanted to use my garden. i found the whole process really collaborative, Rachel initially sent me two basic outlines, very different to each other and i was surprised to find i liked the angular one rather than the curvy one which instinctively i had thought would be my preference. Once she had won me over with that i realised i wanted more ideas and inspiration from her and went for her complete planting design. I am delighted by the final design, even the name is evocative of the garden i hope to achieve "Whispers".
The final design arrived with full descriptions of the plants, including thumbnail pics and how to look after them. Rachel provides an excellent service, i feel really inspired make a start, a hugely better place than before i found Plant Plots when i just felt overwhelmed with where to start!
I am so pleased I found the PlantPlots website. Rachel was an absolute pleasure to work with. I have a garden which needs a make over and wanted a design that was different and exciting.
My garden consists of two distinct halves and I was at a loss with what to do with it. I had lots of ideas in my head but could not bring them together in a creative garden design.
Rachel took time to speak with me, discussing various aspects of my garden, listening to my concerns, likes, dislikes and various possible ideas. Rachel worked very closely with me throughout the whole design process submitting creative ideas, asking for my feedback and taking my comments on board.
The final design is absolutely stunning! I can't wait to create my new garden. Along with the garden design, Rachel has also provided a useful folder with detailed planting scheme, maintenance and aftercare information. Thank you so much Rachel.
Oxana A – May 2019 Plantplots is a fantastic resource!
Plantplots is a fantastic resource for anyone who -like me- has very little gardening experience and is struggling to create a special garden to enjoy. Rachel was amazing! Very supportive, creative and fun to work with. She was very patient while I was hesitating over different options and being anxious about designing a new garden from scratch.
She spent a lot of time on the phone with me getting to know my preferences and then produced a great design, which I loved! Rachel was very knowledgeable in creating a fantastic mosaic of flowers ( many completely unknown to me) for my borders, working with my preferences for a more natural, insect- friendly and sustainable garden, and within my budget. I am now looking forward to putting these ideas into reality! Huge thank you, Rachel!
Fiona just left a new 5-star review of PlantPlots:
We did not know where to begin to help change our windy uninspiring back garden. Originally we thought we would be just replacing old slabs to new and adding potted plants , but then we found Plantplots.. We were inspired by Rachel's designs and attention to detail. She was so helpful and quick in responding to any questions we asked and was able to find out our dislikes and likes in our own timescale.
She came up with ideas we hadn't even thought of to hide our ugly down pipe and to add colour to a dull corner. Rachel's plans are colourful and easy to understand, giving us hope that our final garden is going to be enjoyable to spend time in..and perhaps become possible budding gardeners in the process. Instead of spending an unknown amount on expensive plants that may not survive or look right we feel confident to try out a balanced selection within our budget and can plan it over the year when we get the landscaping finalised.
Thanks again Rachel..looking forward to a garden we can enjoy very soon and would use your skills again for any other project in the future.
AR just left a new 5-star review of PlantPlots:
I was lucky enough to win a competition recently… My prize… a design by Rachel. Her brief was a low maintenance, bee friendly, beautiful 20×1.6m bed. I have been panicking about how to do this, where to start, and how to do it without spending a fortune.
Rachel came up with an amazing design really quickly which we then tweaked a bit to come up with something perfect. She then gave me a really comprehensive guide as to how to care for the plants, ways of keeping the cost down, future options etc
I am thrilled and found Rachel to be so friendly, knowledgeable and helpful. I would highly HIGHLY recommend her! A million thank you's!!!
Lesley just left a new 5-star review of PlantPlots:
Finding Rachel's website was the best thing I could have done and well worth the affordable fee, which was a lot lower than I expected. I wanted a design for a 'prairie style' border in my garden. Rachel went above and beyond with her help and advice, she was lovely and so enthusiastic. Within days she had done a fantastic border design for me, with tips and a detailed plant list.
Once she had got a good idea of what I wanted through photos, emails and telephone conversations she produced a detailed coloured design plan showing where plants could go and how many of each to get, it was very easy to follow and understand.
She also helped with advice on which plants do better for my situation and how to care for the border and other plants that could be grown too. I can't wait to get started, I would never have thought of what was possible. Thank you Rachel.
Rachel of PlantPlots delivered above and beyond expectations–incredible value!
She was able to work with a limited budget and major design challenges (a broad concrete path down the middle of the garden!) to create a beautiful plan with detailed, colorful scale diagrams for our San Francisco backyard garden.
Rachel is an enthusiastic and flexible communicator, willing to hear our ideas and brainstorm back and forth with us as the design evolved. She provided an extraordinary amount of detail regarding the proposed plantings for our garden, with color photos, very specific instructions on how to care for the many different species, and what to anticipate as the garden matures. At the outset, we weren't sure what to expect, but we were thrilled with the remarkable level of service that Rachel provided for the modest cost.
JL & ML San Francisco Aug 2018
Many thanks for your help
Hi Rachel,
Thank you so much for the mock – up of our garden we love it and we would like you to go ahead an create a design plan for us. Please let me know what the payment options are. Gap filling with Alliums etc sounds lovely as they are a favourite of ours.
Mrs MB Aug 2018
Highly recommended
I found PlantPots during a google search, I wasn't sure what to expect from a designer that doesn't come to your garden,
but OMG Rachel is amazing, sorry just had to highlight this line from my very first email to the finished design the whole process has been so easy. She took everything we asked for and designed 2 borders that were just what we wanted. Nothing was too much trouble for her, even when we asked her to change the design, this was done quickly and with no fuss. I can't wait to see what it looks like in a years time. Thank you Rachel for making our garden a space we can enjoy.
Above and beyond!
She took what my boring neighbors were doing and my request for unique and ran with it.
It resulted in a galaxy theme with shade loving plants that actually incorporated color!
The detailed planting guide with tons of pictures from different angles made it very easy to see her vision of what my blah yard could look like if her easy instructions were followed.
It's a masterpiece!
Mrs CL : Ohio USA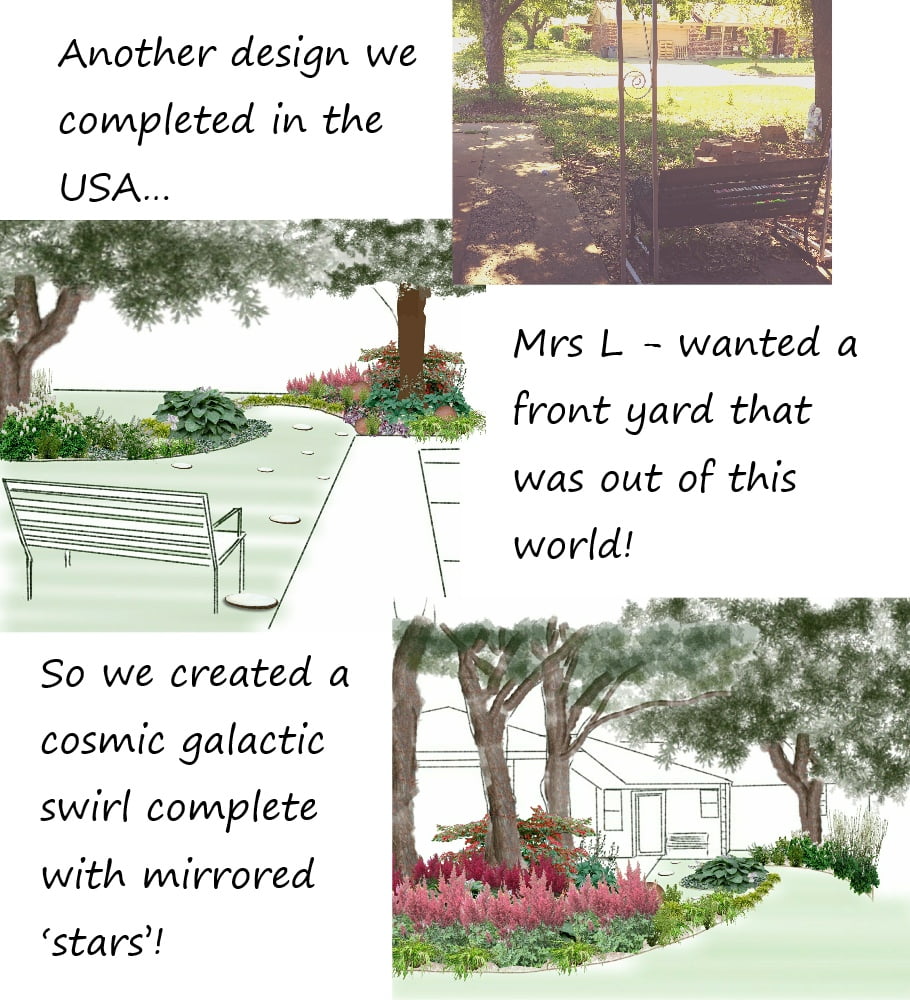 Mr SH; Midlands
We are currently enjoying our first summer in the garden after following the PlantPlots designed planting scheme in early spring.
Even at this early stage is it obvious how well the design works for our space. First summer in PlantPlots designed garden Rachel was a pleasure to deal with. She took time to ask lots of questions initially, to find out what sort of things we liked, how much maintenance we were prepared to carry out etc.
Then she worked her magic on the design. We were delighted with the results on paper, but have waited to see the garden in full bloom before posting this review. Suffice to say that we are more than satisfied. The service provided by PlantPlots represents great value for money and we wouldn't hesitate to recommend them.
June 2018 from Mr HB; Bucks
Rachel is a very good garden designer.she did my back garden and given great inputs including all plant names , design,suggestions and provided a very good service.. I recommend plantsplot to everyone who wants to design the garden for a reasonable price and good design..thanks Hari.
May 2018 from Mrs LC in Sussex
"Having redesigned part of my garden I had a blank canvas to work with. I explained what I wanted to get from the plot and I was given a comprehensive plan with all the plants. What I really appreciated was the very informative information about the plants and how to look after them. Also to see the design in picture form really helped. Service was quick, professional and easy to use. Thanks so much PlantPlots."
SC just left a new 5-star review of PlantPlots:
After completion of an extension, we were left with a tiny "building site" of a garden and were at an absolute loss as to what to do with it! Lady luck was on our side when we finally found the PlantPlots website and their amazing design service.
We cannot recommend Rachel and the team's work more highly. Simply put, Rachel is a miracle worker and lovely person.  editor note: we like this line too! 
Rachel put a great deal of time and effort into understanding exactly what we wanted, discussing all aspects of the design with us along the way, what we liked and didn't like and taking on board our budget and all practicalities (including our distinct lack of "green fingers"!)
We are absolutely delighted with the final design and accompanying detailed plans; we really are thrilled. The amount of careful consideration and attention to detail greatly surpassed all of our expectations, and all at a very reasonable price.
What we also liked about the service is it is independent and just about you; a traditional garden landscaper both designing and building/ implementing a garden has perhaps a vested interest in making it either as easy or profitable for them as possible, PlantPlots are designing just for you.
PlantPlots clearly care passionately about what they do and their customers…it shows in their designs and is a service I would absolutely recommend to all.
Apr 2018 Mrs R C; London
Thank you so much for this!   It is such a thoughtful and considered design!  My husband and I have been going through it very excitedly all evening and we both absolutely love the way the Akebia looks trailing down on the umbrella. The Cotinus as well looks like it's going to be absolutely beautiful!. Thank you also for the wide selection of scented flowers and pretty colours!
Mrs C Apr 2018 London
Wow! Your plans looking absolutely amazing & are superbly well thought out & detailed.
We love the name too! Thank-you so very much, Rachel.
Yes, l'd be delighted to share photos with you once it's complete & to leave a (glowing) review. I'll be sure to recommend your excellent services to friends & family.
Just a quick note to say a big thank you for the design. It looks fabulous. We can't wait to get started!
Mr S H Midlands Nov 2017
HJ – Wisconsin USA
I loved my design from PlantPlots I loved my design from PlantPlots! The company was very responsive, and the plan really fit my style. The more I look at it, the more I like it! I look forward to using them again next year to get a design for my back yard as well as the front. HJ Jul 2017.
Editor note: Yes, we also created a design for her back garden too. Nov 2017
We moved to a new house, with a decent enough garden, which we could see had potential but we just didn't have the expertise to know how to maximise that potential.
We did not want to pay landscape gardener prices, and my husband is quite happy to get his hands muddy, so it was a case of seeking expert advice rather than 'getting someone in to do it'.
Rachel McCartain is certainly an expert! She listened to what we liked and disliked about the garden and responded to what we wanted. She also came up with some more ambitious plans for making the back flower bed really stunning; frankly, we would have wandered around a garden centre, bought some random stuff, spent a fortune and not achieved anything half as nice!
The plans are really user-friendly and I liked the fact that she understood we were on a budget. Having just bought a house, we were keen to make it our own but certainly not in a position to be splashing oodles of cash.
If you are needing some inspiration, or have a gardening problem that needs solving, then I really recommend PlantPlots. I couldn't find any other company that offers exactly the same service, so I'm glad I found them.
AM May 2017
I bought a house with a large garden a couple of years and, although the garden was in a reasonable state, it had since deteriorated over that time simply because I didn't know the first thing about gardening. I was baffled by all the gardening terminology, confused about pruning, didn't know a herbaceous from a deciduous. Most gardening websites just don't simplify things for novices so trying to figure out a suitable planting scheme was a nightmare. But, all that changed when I came across PlantPlots.
Rachel McCartain is a genius. (editor note – we really liked this line!)
The gardening information on the website is clear and easy to understand – even for an absolute beginner – but it is her garden design service that is truly incredible. After only a couple of email exchanges about my requirements, Rachel provided a complete garden design pack.
This included a list of what to plant and where to plant it, how to disguise my ugly shed, tips on how to make the most of the garden space and, most important, advice on how to look after the plants at different times of the year.
The design Rachel provided is amazing in so many ways. Not only does it look incredible but it was completed easily (without relying on the services of tradesmen), cheaply (all the plants were easily sourced and suited the pocket) and quickly (finished over the course of two full-weekends).
I now have a beautiful garden just in time for the summer. I can't thank Rachel enough and I know that PlantPlots will be a huge success.
JH Apr 2017
You have done a wonderful job. I am more than happy to post a review on Facebook.
 Wishing you all the best. I'm sure PlantPlots will be a huge success.
LS Apr 2017
Thanks Rachel…..got it, downloaded, located supplier and am now getting ready to go and buy!
#excitedbythesmallbutbeautifulthingsinlife……….
A-MB: April 2016
Thanks for your very helpful suggestions and advice. I now have several designs in my basket
AC: Mar 2017
Thanks so much for my 'Jewel Box' garden. I absolutely love it…the colours are amazing and I love the idea of the mirrors and the metal art work.
With all the advice that comes with the plans, I'm positive that I will be able to maintain it easily and keep it looking as good as the drawings.
JH: Apr 2017
Well your black fence and colourful pots idea worked a treat. The estate agent put the asking price up, we sold in 2 days, for over what we expected to get. All the viewers put in offers and loved the garden.
I can't recommend PlantPlots enough: we did a day and a half's work and transformed our garden so that we could sell our house.
I'll be back for help with my new (much bigger) garden. Thanks very much
AM Aug 2015
Very Impressed with my garden design from PlantPlots. Rachel had lots of ideas for things I could do to improve my garden and was very knowledgeable about the plants that would be suitable.
She was able to give me a clear idea about how the plot would look by photoshopping pictures of the plants onto my original photo.
She also gave me information on how to prepare the plot, when to plant and how to care for the recommended plants. A great service and very reasonable.
SW: Apr 2015
I wish I'd had help from PlantPots when we bought our first house with a garden, 6 years ago. As a lifelong city-dweller, my horticultural knowledge extended no further than occasionally remembering to water my spider plant. I enthusiastically raided B&Q. picking everything that looked pretty, and inevitably ended up with a bizarre-looking hotch-potch, and a lot of abject failures.
I wouldn't have wanted a gardener, as the fun is in getting your own hands dirty and watching the fruits of your labour flourish, but looking back, I really needed some guidance, and paying PlantPlots would have saved me a lot of money on dead plants!
This is a great investment for those with the desire to create a lovely garden, but rather lacking in the know-how and big-budget department.
I will definitely be buying one of the designs when we finally get around to buying a new house.
JWM Apr 2015
Many thanks for coming back so quickly with the design.
Can't wait to receive it and get started on my journey to a beautiful garden.
LS: Apr 2017