Making gardens look wider
The basic idea here is to show you that with only very few plants you can make your garden appear wider. 
In the image below, the garden is dominated by the view of the fence and there are a few plants around the edges.
So what do you see?  Well, what is most noticeable is where the garden boundaries are. Naturally, our eyes follow the top line of the fence which defines the boundary.
In order to make the garden appear wider, we need to break up the long straight lines of the fence.  It has to have something to distract it from the dominance of the fence and the lawn.
The easiest way to achieve this is; close in the near view, and grow plants to grow that rise above it.
Make the Garden appear Wider:
In the redesign, the lawn grows right up to the fences on either side, straight away the garden appears wider (and it's pretty easy to mow right up to the edges these days, but if your mower leaves an strip, a strimmer will remove any untidy bits).  
4 triangular shaped beds have been planted in each corner, which are then underplanted. The plants used need to grow upwards rather than outwards to maximise your available space.
The tall planting narrows your view at this end of the garden. The effect created when you stand at the back door, narrows your view close up. As the grass moves outward from the front beds, you are 'tricked' into thinking the width is greater. It won't work so well if you have smaller shrubs. 
We can help you too, try our design service – all we need is a photo!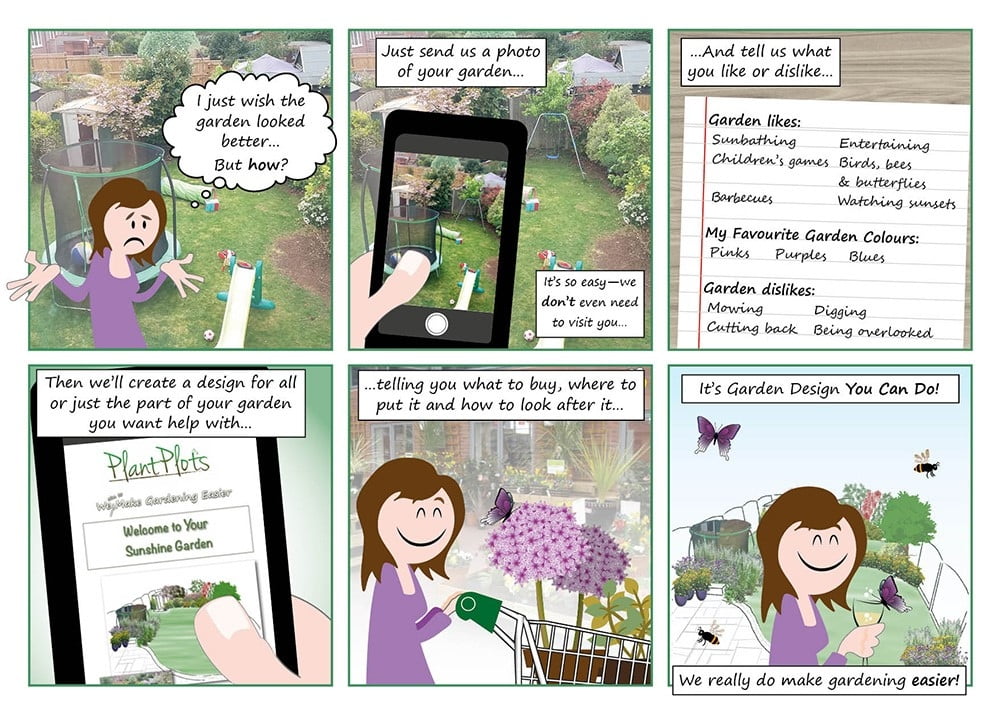 To reduce the visual impact of the fence, paint it black. This has the effect of making it seem further away.
 Although you are giving the appearance of more width, eyes are also drawn to the end fence, so this is where you put a focal point.  It could be a beautiful climber. Alternatively, have a large pot or a collection of pots, a sculpture, a statue or that is where you put your table and chairs.
If you are thinking about something 'artistic' make sure it is large enough to notice, too small and it will look out of scale.
It's a simple trick to making your garden not only wider but more interesting to look at too.
For more fabulous design advice – try our book. Written to help you make your garden better.