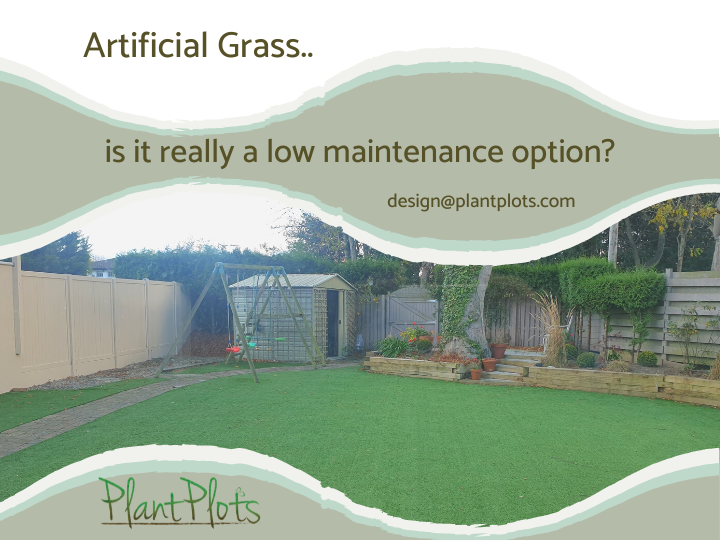 Garden design ideas: using artificial grass
Should any garden be using artifical grass instead of a lawn or patio? Are you cheating by using artificial grass? I have created a number of design for customers where they have already chosen to remove the lawn, replacing it with fake grass.
Best Reasons for using artifical grass:
Kids and footfall. The routes you walk down the garden send to follow the same path, which will quickly wear the grass away.
Now, using artificial turf will not change the use of the garden, the routes you walk will stay the same, the artificial grass will flatten rather than be worn away leaving bare soil. The lawn will look less weary, but you will still have obvious pathways through the garden, as the fibres of the turf will flatten.
No mowing. Artificial grass is assumed to be a low maintenance alternative to grass. However, you need to think of it more as an outside carpet. It will be walked on, get muddy, have leaves and debris fall on it. It will get pooped and wee'ed on by birds, foxes, cats and dogs, so it will need brushing, cleaning, clearing (or hoovering!).
The question you need to decide is whether the time spent keeping the new lawn clean will be more or less effort than a conventional lawn.
How should you use artificial grass in a garden then?
Be selective, don't cover a whole lawn in fake grass, as it won't really save you much maintenance time. It will however, remain green looking and is great if you have a lot of children who love running about playing football.
So the best advice is to only place it where conventional lawns won't grow well because of over use, or use it in place of paving. Walking barefoot on artificial grass is nicer on the feet than walking on hot paving stones for example.
How can we help, type your design query in below – we've got most garden design issues covered (hopefully).
Designed from Photos
Designing a garden is not easy if you aren't an expert gardener. This design was created without the need for site visits. All this lovely customer did was send a few photos and some measurements. After a couple of weeks, they now have a comprehensive design plan, helping to turn their garden from the ordinary into the extraordinary.
So it won't matter if it takes 2 months or 2 years to finish – you will have a plan to help you all the way.
Creating the garden of your dreams is now possible.
Simple Practical and Affordable Design.
So why wait. Contact Rachel today, for a free no obligation quote.
For even more great and fabulous advice buy this amazing book. it really is a garden changer.
 'I Want to Like my Garden' by Rachel McCartain.