What to do in my garden?
Here's a common gardening dilemma….
Many of you would love to have a more gorgeous garden but aren't expert gardeners. Everything on the internet or in books doesn't seem to help you decide what to do in your own garden. The gardens shown are all too amazing, too complex or too perfect. Very little seems to relate to the type of garden you have.
So this is our advice on how to garden. It's just simple, practical, affordable and useful.
Find loads of advice on how to garden, simply click any link below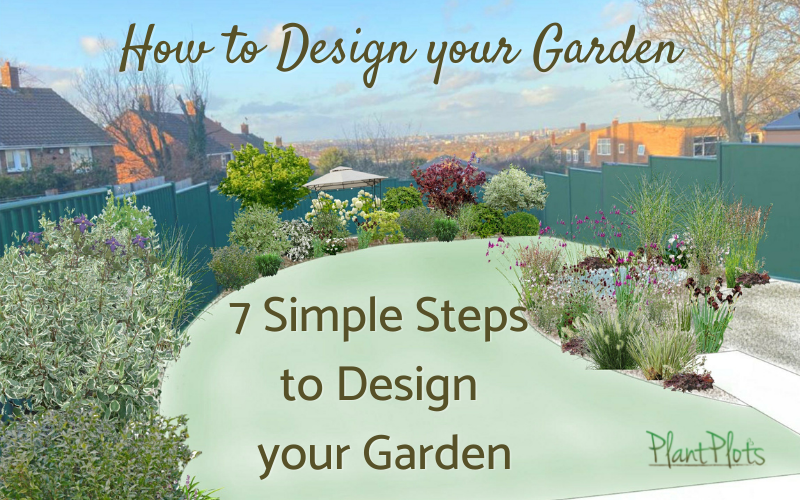 Sound familiar?
PlantPlots was started in 2015 to help all 'novice but eager gardeners'! The aim is to help you create the garden you've always wanted to have.
Everything we do is based around a few core principles;
Visit our shop for loads of great ideas for your garden borders
Getting started
How to garden
You could easily fill a library with the volume of gardening and how to garden books, all of which is great, there is so much helpful advice out there. Then you go to the Garden Centre to get tools and there's even more choice – so what do you really really need?
The tools every gardener needs
Secateurs – it is really worthwhile investing in a decent pair, these will be the item you use the most. Make sure it is comfortable in your hand – I am left handed and daftly, many secateurs are designed for 'righties' not 'lefties' which is really annoying. They should have a cushioned handle and a scissor action.
A Holster – for holding said secateurs. Get one that clips over a trouser pocket and you can holster the secateurs when not needed. Once purchased you'll never garden unholstered again!
A Sharpening Stone – no fancy sharpening gadgets are required, a basic sharpening stone is all that's needed and is so much quicker and easier to use than most of the modern appliances.
Gloves – I probably get through 4 pairs a year, but I there are 3 types I use a lot. Firstly a waterproof pair, usually of thick enough rubber to stop little thorns getting in, a pair of good heavy duty gloves for general mucking, digging and pruning and lastly I have a pair with padded palms which is wonderfully comfortable when I have a lot of digging or cutting back to do.
Kneeling Pads – waterproof and better for my knees!
Fork & Spade – try not to buy the cheapest versions, as either the handle snaps or the prongs of the fork bend too easily. You can pick up really good second hand garden tools which may be another option if funds are tight.
Hand Trowel & Fork – if I am not holding secateurs, I will be invariably using a small hand fork, make sure the neck of the trowel and fork is strong and doesn't bend. Also if at all possible, buy one in neon colours – I can't tell you how many hours I have wasted searching for the blasted thing in the undergrowth with its wooden ( i.e camouflaged) handle!
By the way – most gardeners don't really need power tools! Shears – these are great for chopping back and trimming hedges. If you go 'manual' you also benefit from well toned arms and no 'bingo wings'. Make sure the shears can be readjusted and tightened easily, and also make sure there is a shock absorbing stopper on the handles, your wrists will love you for it. There are lots of other bits you can buy of course, but these are the basics and they will probably be sufficient for nearly everything you need to do in your garden, so now that you are ready to get going, the next job is digging and preparing the soil.
Then there are some useful other tools too
Pruning Saw – these are short handled small saws that are designed to cut through branches easily. The best ones can be closed by folding the blade into the handle, penknife style. I also have an old one that I use for cutting through roots in the ground – which is also quite handy.
Edging Shears – if you have a lawn, these cut the straggly grass bits at the edge of the lawn, and it makes everything look so much neater once done. Again, long handles so you don't have to bend down, and keep them well sharpened.
Long Handled Loppers – if you have any branches thicker than 1cm, then invest in loppers. They take all the strain out of cutting, they are really super strong giant secateurs.
Trug – I like these buckets as they are flexible easy to carry one handed and come in a lots of bright (easy to find) colours.