Welcome to Our Garden Design Shop
It's Sunset Season!
What a time to be out in the garden, the sunlight is beautiful as it catches the leaves, plants are flowering their socks off before the first frost strikes, spiders webs look beautiful in the early morning sun…
How did your garden look this year – is it time for a change?
Try our fantastic border designs – it's a totally new way to garden!
Think of our designs as a recipe for the garden border.
So, just like you use a recipe book in the kitchen, you can choose a specific design for each part of your garden.
All the information is contained in the design, you'll know what to buy, where to plant it and how to look after it afterwards.
It's really simple, easy and available to download straight away.
You can plant with confidence knowing all the plants will not only look good together but they will grow well together too.
If you want to try out a sample of what we are offering – please download our FREE 'Bee Bistro' design.
---
Choose a design with your favourite colours.
---
Or, decide what type of plot is best for you.
---
If you'd just like to see all our designs
All you need to do is choose your design and then it's ready to download straight away.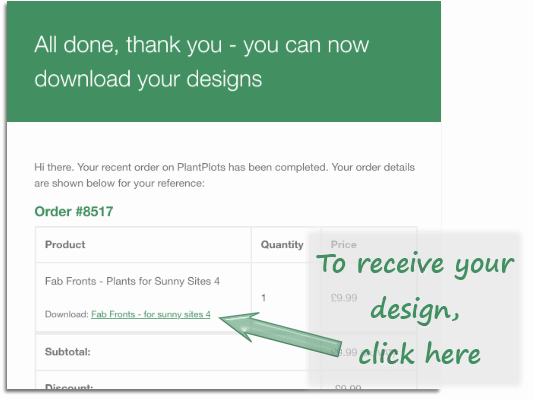 Offers only apply to ready-made downloadable designs and excludes vouchers and our design services.
---
Our designs are created with you in mind. We want you to be able to enjoy the plants and not spend hours looking after your garden!
---
However, if you get a bit stuck – or need some help deciding what's the best plot for you- then get in contact with us today for a bespoke garden design:
We have 3 levels of service on offer – and best of all one of them is free!
Our free service helps you choose a PlantPlot border design to go in a part of your garden.  We also will help you redesign with your own plants and finally we can create a unique border design just for you.
If you are undecided as to the best PlantPlot design for the place you have in mind, simply contact us, send us a little information about where you want to plant it – and we'll advise you of the most suitable designs that would grow there.
There are lots of ways we can help you redesign your garden or offer advice and help with just a part of the garden. So whether you want advice on reshaping the lawn, or which plants to move all you need to do is send us some photos and we'll come back with our best advice.
Prices are £25 for up to and inc 4 m sq, for larger areas –  please contact us.
We can tailor this service to suit you. The design can be created for a small area, like a front garden for example, or you may just want some inspiration on what to do next.
We also offer a complete redesign service (though that's a little more expensive) for which you will receive a planting plan, a list of the plants you need and an aftercare plan.
Prices start at £45 for up to 4 m sq. For areas larger than this or more in depth projects, please contact  us.
---
We also have some gift vouchers, so you can give someone special a totally unique present this year.

---
On top of all that, we also have an eBook that you can buy, packed full of advice and low maintenance garden designs.
Find it on Amazon!



It's currently on Special Offer at only £4.99
You get 83 pages packed full of really useful advice aimed at the smaller modern sized garden.
The designs in this book are created for real gardens, designed for people who have busy lives and whose foremost talent isn't gardening – this book will help you get started.
All you have to do is a bit of digging, but then gardening is great way to exercise.